Spuyten Duyvil
Friday, May 19 at 8 PM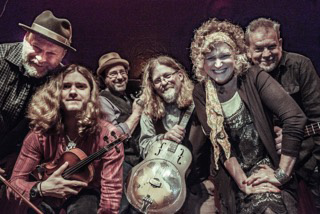 The six-piece powerhouse band Spuyten Duyvil brings its infectious blend of American roots and alternative folk rock to Our Times Coffeehouse on Friday, May 19 at 8 PM. This past year, their CD "The Social Music Hour Vol. 1" received an International Folk Music Awards Album of the Year nomination, and their new single "The Warmth of Other Suns" is an International Folk DJ Top 20 single.

"Seeing a Spuyten Duyvil show for the first time is like throwing a cherry bomb into a lake," says Rich Warrren, WFMT. "It wakes you up. . .They bring barn-burning energy to venues throughout the East Coast and Midwest."

This past year, the band headlined the South Florida Folk Festival, played the Roots on the River in Vermont, and shared the main stage of our own Great South Bay Music Festival with Blues Traveler. They also brought their unique sound to Israel in an American Embassy-backed tour which featured two headlining sets at the Jacob's Ladder Festival on the Sea of Galilee.
---
Our Times Coffeehouse is in the Ethical Humanist Society building, 38 Old Country Road, Garden City, two miles west of Meadowbrook Parkway next to the blue water tower. For more information, call 516-741-7304.
Suggested Donations For This Performance:
Students (w/IDs): $15
Children under 12: $6 (very young children are free)
Tickets on sale at the door.
Sorry, no pre-sales are available.
The Our Times Coffeehouse, staffed entirely with volunteers, has been presenting live music for over 27 years. OTC is dedicated to supporting affordable folk music on Long Island, and over the years has hosted hundreds of outstanding performers in a warm, intimate setting. The Our Times Coffeehouse is a joint project of the Ethical Humanist Society of Long Island (EHS) and the Long Island Progressive Coalition (LIPC), with the assistance of the Research and Education Project of Long Island (REP-LI).