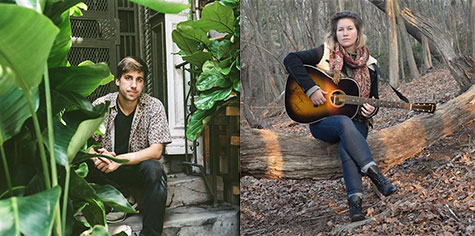 Friday, March 17 at 8 PM
The next concert at Our Times Coffeehouse will be Mike Tedesco and Kirsten Maxwell, performing as a duo. Since 2015, Tedesco has been a member of the legendary New York Songwriter's Circle, whose alumni include such notables as Norah Jones and Lana Del Rey. Kirsten Maxwell is also a songwriter, and her stunningly pure voice has drawn comparisons to Joan Baez, Judy Collins and Joni Mitchell.
Seeing these two super talented performers working together in the intimate setting of a coffeehouse will be a real treat for the audience. Tedesco's most recently released six-song EP, called "Put To Rest," consists of meticulous piano playing, heartfelt lyrics and rich vocals that showcase Tedesco's keen storytelling abilities. Huntington native Maxwell was a winner of the 2016 South Florida Folk Festival Singer-Songwriter Competition. "It was love at first listen!" declared Joltin' Joe of Radio Nowhere On WMSC. "Not just Kirsten's gorgeous voice but her well-crafted songs about the intricacies of love and relationships."
---
Our Times Coffeehouse is in the Ethical Humanist Society building, 38 Old Country Road, Garden City, two miles west of Meadowbrook Parkway next to the blue water tower. For more information, call 516-741-7304.
Suggested Donations For This Performance:
Students (w/IDs): $15
Children under 12: $6 (very young children are free)
Tickets on sale at the door.
Sorry, no pre-sales are available.
The Our Times Coffeehouse, staffed entirely with volunteers, has been presenting live music for over 27 years. OTC is dedicated to supporting affordable folk music on Long Island, and over the years has hosted hundreds of outstanding performers in a warm, intimate setting. The Our Times Coffeehouse is a joint project of the Ethical Humanist Society of Long Island (EHS) and the Long Island Progressive Coalition (LIPC), with the assistance of the Research and Education Project of Long Island (REP-LI).