The Music of Simon & Garfunkel:
Swearingen & Kelli
Friday, October 20 at 8 PM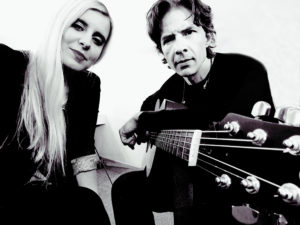 Join us for a trip back into the 1960s Greenwich Village coffeehouse scene with a concert featuring the music of Simon & Garfunkel performed by Swearingen and Kelli. These two artists recreate the music, memories and magic of the most famous folk-rock duo of our time.
AJ Swearingen has been performing this music for 20 years with mastery of Paul Simon's intricate guitar playing. His deep baritone blends perfectly against Kelli's angelic vocals, which invoke a true sound in the spirit of Art Garfunkel. The duo has been performing music together since 2010. Together and separately they have shared the stage with Kenny Rogers, Crystal Gayle, Livingston Taylor, John McCutcheon and many more.
Two voices in perfect harmony balanced against one acoustic guitar deliver a tribute to the sound of the S&G. They perform favorites such as Homeward Bound, 59th Street Bridge Song, The Boxer, Sounds of Silence and Hazy Shade of Winter. The Capital Gazette wrote, "Jayne Kelli finds her way to the heavenly highs of Art Garfunkel with a soaring and effortless soprano delivery, while AJ Swearingen displays his dexterity with Simon's well-ensconced guitar riffs."
---
Our Times Coffeehouse is in the Ethical Humanist Society building, 38 Old Country Road, Garden City, two miles west of Meadowbrook Parkway next to the blue water tower. For more information, call 516-741-7304.
Suggested Donations For This Performance:
Students (w/IDs): $15
Children under 12: $6 (very young children are free)
Tickets on sale at the door.
Sorry, no pre-sales are available.
The Our Times Coffeehouse, staffed entirely with volunteers, has been presenting live music for over 27 years. OTC is dedicated to supporting affordable folk music on Long Island, and over the years has hosted hundreds of outstanding performers in a warm, intimate setting. The Our Times Coffeehouse is a joint project of the Ethical Humanist Society of Long Island (EHS) and the Long Island Progressive Coalition (LIPC), with the assistance of the Research and Education Project of Long Island (REP-LI).