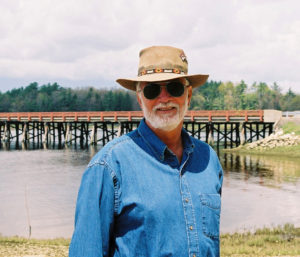 Friday, January 20, 2017 at 8 pm
Our Times Coffeehouse is pleased to present folk troubadour Bill Staines, who performs on Friday, January 20, 2017 at 8 PM. His annual January visit — year number 26! — is a Coffeehouse tradition. Join Bill and the friends of the Our Times Coffeehouse welcoming in the New Year.
His music is a slice of Americana, reflecting with the same ease his feelings about the prairie people of the Midwest or the adventurers of the Yukon, the on-the-road truckers, or the everyday workers who make up this land. The Associated Press declared, "Staines is one of the best songwriters in folk music today, penning lyrics that evoke a sense of place and a generous spirit to go along with his pretty melodies."
Many of Bill's songs have appeared in grade school music books, church hymnals, and scouting campfire songbooks. He is one of only a few songwriters to have eight songs published in the classic song collection "Rise Up Singing." Composer David Amram recently described him as a "modern day Stephen Foster. . .His songs will be around 100 years from now."
For more than 45 years, Bill Staines has been on the road singing his songs at the country's top festivals, concerts, clubs and coffeehouses. His songs have been recorded by musicians including Peter, Paul and Mary, Nanci Griffith, and Jerry Jeff Walker. Staines writes about cowboys, Yukon adventures, fishermen and everyday working people. This is an artist who plays over 200 dates a year and puts 65,000 miles on his car annually. His lovely, infectious melodies, his warm, smooth baritone and his prowess on the guitar make him one of the most popular singers on the folk music circuit.
Bill Staines has recorded 26 critically acclaimed solo albums, including two for children, and in addition to all his performances, he continues to write and release new original music. "Bill Staines has been my hero since 1977," stated Nanci Griffith. "He carries on where Woody left off—carrying on the tradition of stories and characters you wish you knew."
Suggested Donations For This Performance:
Students (w/IDs): $15
Children under 12: $6 (very young children are free)
Tickets on sale at the door.
Sorry, no pre-sales are available.
The Our Times Coffeehouse, staffed entirely with volunteers, has been presenting live music for over 27 years. OTC is dedicated to supporting affordable folk music on Long Island, and over the years has hosted hundreds of outstanding performers in a warm, intimate setting. The Our Times Coffeehouse is a joint project of the Ethical Humanist Society of Long Island (EHS) and the Long Island Progressive Coalition (LIPC), with the assistance of the Research and Education Project of Long Island (REP-LI).