Ryanhood
Friday, November 17 at 8 PM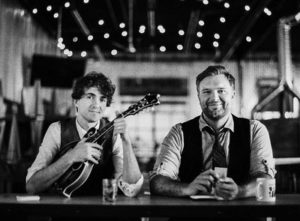 Ryanhood was declared the "Best Group/Duo" in the 2014 International Acoustic Music Awards (IAMAs). They have toured with Jazon Mraz, recorded an album with Grammy-winning producer Ross Hogarth, and shared the stage with Matt Nathanson, Train, American Authors and Lifehouse.
Click here to sample some of their amazing sound!
They released their sixth album, "Yearbook," in March of this year, and have performed more than 800 shows in 45 states. Ryan Green and Cameron Hood began more than a decade ago as street performers in Boston's Quincy Market. "Campus Activities Magazine" shortly thereafter named them "one of the most requested acts by college buyers all across the country."
Hood's rich and folky lead vocals, Green's explosive guitar and mandolin riffs, and their airtight vocal harmonies prompted the Arizona Daily Star to call them, "a match made in radio heaven." They currently reside in their hometown of Tucson, AZ, where they have won more than a dozen Tucson Music Awards including "Best Folk Band" and "Best Rock Band."
---
Our Times Coffeehouse is in the Ethical Humanist Society building, 38 Old Country Road, Garden City, two miles west of Meadowbrook Parkway next to the blue water tower. For more information, call 516-741-7304.
Suggested Donations For This Performance:
Students (w/IDs): $15
Children under 12: $6 (very young children are free)
Tickets on sale at the door.
Sorry, no pre-sales are available.
The Our Times Coffeehouse, staffed entirely with volunteers, has been presenting live music for over 27 years. OTC is dedicated to supporting affordable folk music on Long Island, and over the years has hosted hundreds of outstanding performers in a warm, intimate setting. The Our Times Coffeehouse is a joint project of the Ethical Humanist Society of Long Island (EHS) and the Long Island Progressive Coalition (LIPC), with the assistance of the Research and Education Project of Long Island (REP-LI).