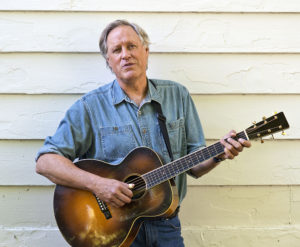 Friday, February 17, 2017 at 8 pm
Our Times Coffeehouse is pleased to present the legendary Tom Chapin on February 17 at 8 PM. In a career that spans five decades, 24 albums and three Grammy awards, Chapin has worked as a recording artist and concert performer, acted on Broadway, and worked extensively in films, television and radio. He is currently writing and recording what will become his 25th CD, scheduled for release this spring.
This multi-talented singer/songwriter/guitarist has established a reputation for insightful, heartfelt songs and effortlessly charismatic live performances. The New York Times called Chapin "one of the great personalities in contemporary folk music." Rolling Stone wrote, "Chapin is a man deeply enamored of family life. . .with a penchant for translating everyday situations into upbeat, enjoyable and accessible music. What started as a solo concert literally ended up as a celebration of family, with people of all ages showing their exuberance and having a ball."
Suggested Donations For This Performance:
Students (w/IDs): $15
Children under 12: $6 (very young children are free)
Tickets on sale at the door.
Sorry, no pre-sales are available.
The Our Times Coffeehouse, staffed entirely with volunteers, has been presenting live music for over 27 years. OTC is dedicated to supporting affordable folk music on Long Island, and over the years has hosted hundreds of outstanding performers in a warm, intimate setting. The Our Times Coffeehouse is a joint project of the Ethical Humanist Society of Long Island (EHS) and the Long Island Progressive Coalition (LIPC), with the assistance of the Research and Education Project of Long Island (REP-LI).