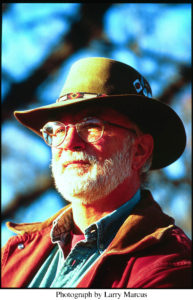 Friday, January 18 at 8 PM
Our Times Coffeehouse is pleased to present folk troubadour Bill Staines, one of the most popular singers on the folk music circuit today. His annual January visit — year number 28! — is a Coffeehouse tradition. Join Bill and the friends of the Our Times Coffeehouse welcoming in the New Year.
After touring and playing concerts for over 41 years, you would think that musician and songwriter Bill Staines might think about slowing down, but that's just not the case. Bill continues to perform more than 175 shows a year and drives close to 70,000 miles getting to them. He is one of the most durable and beloved singers on the folk music scene today.
Staines has 26 recordings to his credit and has written over 300 songs, many of which have been recorded by the likes of Peter, Paul, and Mary, Makem and Clancy, Nanci Griffith, Glen Yarborough, and Jerry Jeff Walker. His music is sung at campfires and folk music gatherings, in homes and churches, all around the country. Songs like "All God's Critters," "The Roseville Fair," "Child of Mine," and "River," have become folk music classics.
On stage, Staines is an intimate, compelling performer, out of the folk scene of the 1960s, encouraging his audience to sing with him on his chorus songs. He will mix in traditional tunes with his own contemporary folk ballads. His humorous tales of life on the road and observations of everyday people provide an entertaining blend of story and song.
"I have always wanted to bring something of value to people with my songs. I think that is important, to try to write beyond myself, to write to the great things that we all experience in our lives." For Bill, that is what folk music is all about–a music rich in the human experience and spirit.
---
Our Times Coffeehouse, staffed entirely with volunteers, has been presenting live music for 30 years. OTC is dedicated to supporting affordable folk music on Long Island, and over the years has hosted hundreds of outstanding performers in a warm, intimate setting. The Our Times Coffeehouse is a joint project of the Ethical Humanist Society of Long Island (EHS) and the Long Island Progressive Coalition (LIPC), with the assistance of the Research and Education Project of Long Island (REP-LI).
Suggested Donations:
Adults: $20
Students (w/ID): $15
Children under 12: $6 (very young children are free)
Tickets on sale at the door.
Sorry, no pre-sales are available.