Bill Staines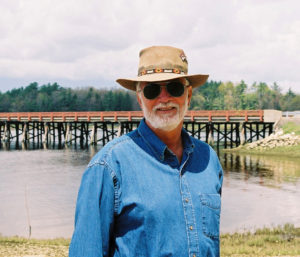 Friday, January 17 at 8 PM
Our Times Coffeehouse is pleased to present folk troubadour Bill Staines, who performs on Friday, January 17, 2020 at 8 PM. Join Bill and the friends of Our Times Coffeehouse welcoming in the New Year and the new decade. This year we are celebrating 30 years of his annual January visits! His wonderful songs, his warm, smooth baritone, his prowess on guitar, his charm and his gentle humor, make Bill Staines one of the most popular singers on the folk music circuit today.
He is also a favorite of other folk singers and a significant influence on many. His songs have been recorded by other musicians, including Peter, Paul & Mary, Nanci Griffith, Makem & Clancy, Grandpa Jones, Priscilla Herdman and Jerry Jeff Walker. Over 80 of Staines' songs have been published in three songbooks. His radio and television appearances have included A Prairie Home Companion, Mountain Stage, The Good Evening Show, and he has hosted local programs on PBS and network television.
Our Times Coffeehouse is in the Ethical Humanist Society building, 38 Old Country Road, Garden City, two miles west of Meadowbrook Parkway. For more information, call 516-741-7304.
Suggested Donations For This Performance:
Students (w/IDs): $15
Children under 12: $6 (very young children are free)
Tickets on sale at the door.
Sorry, no pre-sales are available.
Our Times Coffeehouse, staffed entirely with volunteers, has been presenting live music for 32 years. OTC is dedicated to supporting affordable folk music on Long Island, and over the years has hosted hundreds of outstanding performers in a warm, intimate setting. The Our Times Coffeehouse is a project of the Ethical Humanist Society of Long Island.