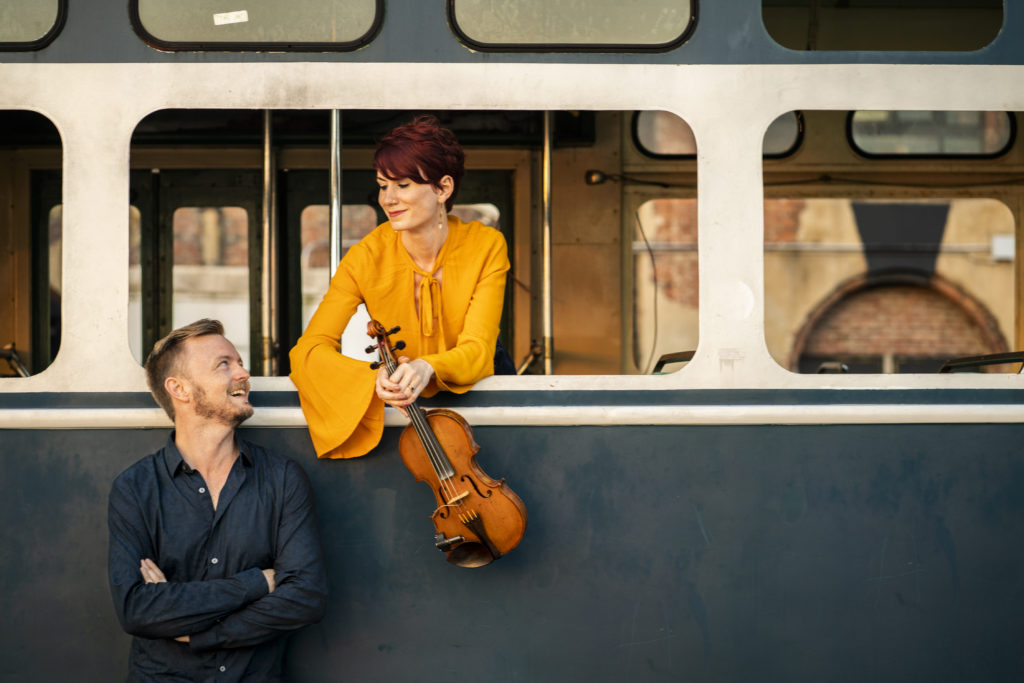 Friday, June 21 at 8 PM
Philadelphia-based Irish/Folk duo House of Hamill takes the stage at Our Times Coffeehouse on Friday, June 21. Both members Rose Baldino and Brian Buchanan are accomplished traditional fiddle players and classical violinists, with over 25 years of writing and performance experience between them. Together, they write unusual new fiddle tunes and exciting, unpredictable original songs while breathing new life into traditional and contemporary songs.
Click here for their song "Pound a Week Rise."
Both are confident and unique lead vocalists, and the blend of their two voices in harmony is hypnotic and irresistible. Whether House of Hamill is playing songs from their debut album "Wide Awake" (2016) or stomping through a set of original jigs and reels from their follow-up "March Through Storms" (2018), their chemistry onstage is always engaging and often hilarious. In the summer of 2018, their quirky all-violin cover of "Sweet Child Of Mine" went viral, amassing over 15 million views and more than 400,000 shares on Facebook in just a few weeks, and was picked up by publications all over the world.
AT THIS SHOW: raffle tickets, $5 each, for a pair of tickets that are worth $400 at this year's Falcon Ridge Folk Festival. Includes three days of festival and camping.

---
Our Times Coffeehouse, staffed entirely with volunteers, has been presenting live music for 30 years. OTC is dedicated to supporting affordable folk music on Long Island, and over the years has hosted hundreds of outstanding performers in a warm, intimate setting. The Our Times Coffeehouse is a joint project of the Ethical Humanist Society of Long Island (EHS) and the Long Island Progressive Coalition (LIPC), with the assistance of the Research and Education Project of Long Island (REP-LI).
Suggested Donations:
Adults: $20
Students (w/ID): $15
Children under 12: $6 (very young children are free)
Tickets on sale at the door.
Sorry, no pre-sales are available.