The Folk Goddesses


Hillary Foxsong, Martha Trachtenberg, & Judith Zweiman


Friday, March 16 at 8 PM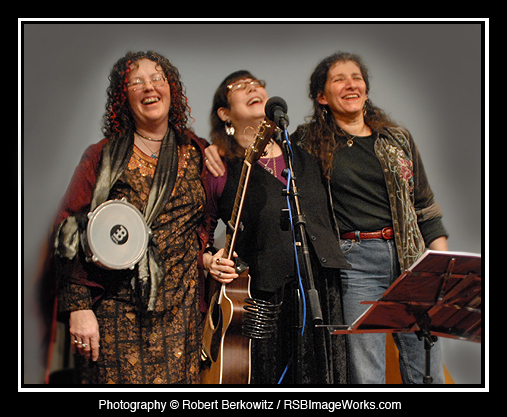 Next up at OTC: three snarky, middle-aged women on a mission! Three of Long Island's favorite singer-songwriters got together at a house concert in 2010. Since then, they have performed throughout the New York, Long Island, and New Jersey metropolitan areas, and spread their goddess-like wings into New England as well. They can often be found rehearsing in Huntington, and are coming to Garden City March 16.
Martha Trachtenberg  is a prolific singer-songwriter-guitarist. She was a founding member of The Buffalo Gals, the first all-woman bluegrass band, followed by a career as a jingle singer in NYC, and has had her songs recorded by such artists as Tony Trishka and Skyline, Missy Raines, Jim Hurst, Kathy Chiavola and Dede Wyland. She performs solo as well as with her husband, musician and producer Tom Griffith, and enjoys being a Goddess.
Judith Zweiman is a singer-songwriter-guitarist who also plays bass and hand percussion. Over the years, she has performed and recorded as a solo artist as well as with numerous other singer-songwriters throughout NYC and LI. She was part of the Greenwich Village NYC folk music revival of the 1980s and those recording are available on Fast Folk Musical Magazine (now part of Smithsonian-Folkways). She was a founding member of Ell's Kitchen Original Jazz, where she was a recipient of a Meet the Composer grant, and  has been a member of numerous acoustic music groups such as Deb Kayman and Ethnic Routes, Late For Dinner, Folkano, Judith Zweiman & the Answers! and the sea chanty duo Strike the Bell to name but a few.  She was both a student and faculty member at the now-legendary Guitar Workshop of Roslyn, where she studied classical guitar and traditional folk music of the British Isles and the United States.  She currently works as a music and multi-media specialist in therapeutic recreation, and has been affiliated as a performer with the NYC non-profit organization, HAI  (Healing Arts Initiative, formerly Hospital Audiences, Inc.) since 1984.
Hillary Foxsong is a singer-songwriter-guitarist and percussionist who opted, in lieu of having a mid-life crisis, to embark on a second career as a musician. In addition to The Folk Goddesses, she is one-third of the trio Gathering Time, and her songs have been recorded by both groups. She has a background in graphic design and art and is a gifted photographer. She is married to recording engineer Ted Stoforos.
---
Doors open at 7:15 PM that evening for ticket sales. The suggested donations are $20 adults and $15 students with ID; sorry, no pre-sales are available. Our Times Coffeehouse is in the Ethical Humanist Society building, 38 Old Country Road, two miles west of Meadowbrook Parkway next to the blue water tower. For more information, please call 516-741-7304.
Our Times Coffeehouse, staffed entirely with volunteers, has been presenting live music for 28 years. OTC is dedicated to supporting affordable folk music on Long Island, and over the years has hosted hundreds of outstanding performers in a warm, intimate setting. The Our Times Coffeehouse is a joint project of the Ethical Humanist Society of Long Island (EHS) and the Long Island Progressive Coalition (LIPC), with the assistance of the Research and Education Project of Long Island (REP-LI).
Adults: $20
Students (w/IDs): $15
Children under 12: $6 (very young children are free)
Tickets on sale at the door.
Sorry, no pre-sales are available.