Joe Jencks
Friday, May 18 at 8 PM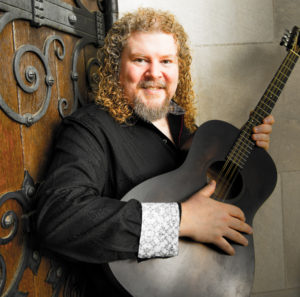 Joe Jencks is an 18-year veteran of the international folk circuit, an award-winning songwriter, and celebrated vocalist based in Chicago. Merging conservatory training with his Irish roots and working-class upbringing, Joe delivers engaged musical narratives filled with heart, soul, groove and grit. Having penned several #1 folksongs, including the ever-relevant Lady of The Harbor, Jencks is also co-founder of the harmony trio Brother Sun. From festivals like Falcon Ridge, Kerrville, Mariposa, and Old Songs, to venues like Lincoln Center and Carnegie Hall, Jencks has enthralled diverse audiences with his approachable style. Joe is noted for his unique merging of musical beauty, social consciousness, and spiritual exploration. Blending well-crafted instrumentals and vivid songwriting, Jencks serves it all up with a lyric baritone voice that has the edgy richness of a good sea-salt caramel.
His Garden City performance is part of a tour featuring his new CD "The Forgotten: Recovered Treasures From The Pen of Si Kahn," featuring some of the very best unreleased songs by American Folk master Si Kahn chronicling the lives of extraordinary people.
In addition to his performance work, Jencks' skills as a vocal harmony arranger are in demand. With over 30 appearances as a guest vocalist and arranger on various studio recordings, he brings a unique rich sound to the work of other artists.
---
Doors open at 7:15 PM that evening for ticket sales. The suggested donations are $20 adults and $15 students with ID; sorry, no pre-sales are available. Our Times Coffeehouse is in the Ethical Humanist Society building, 38 Old Country Road, two miles west of Meadowbrook Parkway next to the blue water tower. For more information, please call 516-741-7304.
Our Times Coffeehouse, staffed entirely with volunteers, has been presenting live music for 28 years. OTC is dedicated to supporting affordable folk music on Long Island, and over the years has hosted hundreds of outstanding performers in a warm, intimate setting. The Our Times Coffeehouse is a joint project of the Ethical Humanist Society of Long Island (EHS) and the Long Island Progressive Coalition (LIPC), with the assistance of the Research and Education Project of Long Island (REP-LI).
Adults: $20
Students (w/IDs): $15
Children under 12: $6 (very young children are free)
Tickets on sale at the door.
Sorry, no pre-sales are available.