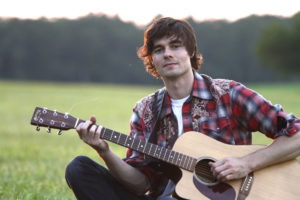 Friday, May 17 at 8 PM
Matt Nakoa grew up on a small goat farm in Smyrna, NY and began composing music as a teenager. Following a formative stint as a classical pianist, Matt won scholarship to attend Berklee College of Music in Boston. There he studied alongside soon-to-be Grammy winners St. Vincent and Esperanza Spaulding, among others. After college, Matt toured with his band, The Fens, and eventually landed in New York City's vibrant piano bar scene. Matt quickly became a star performer at Manhattan's Brandy's Piano Bar, with lines outside the door each Saturday night. He was dubbed the "Most Wanted Artist" at the Falcon Ridge Folk Festival in 2014.
Matt's first solo album, Light In The Dark (2012), is an eclectic pop opus. In contrast, A Dozen Other Loves (2014), explores a simple acoustic palette. This intimate collection has earned many songwriting awards, including a win at Kerrville Folk Festival's prestigious New Folk Competition. Additionally, Matt's piano music has received favorable reviews in publications including The New York Times, and his film scoring has been featured by Disney. Matt now tours internationally, recently performing at The White House, throughout India, and regularly with folk music icon Tom Rush.
---
Our Times Coffeehouse, staffed entirely with volunteers, has been presenting live music for 30 years. OTC is dedicated to supporting affordable folk music on Long Island, and over the years has hosted hundreds of outstanding performers in a warm, intimate setting. The Our Times Coffeehouse is a joint project of the Ethical Humanist Society of Long Island (EHS) and the Long Island Progressive Coalition (LIPC), with the assistance of the Research and Education Project of Long Island (REP-LI).
Suggested Donations:
Adults: $20
Students (w/ID): $15
Children under 12: $6 (very young children are free)
Tickets on sale at the door.
Sorry, no pre-sales are available.