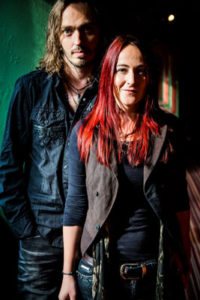 The Black Feathers, made up of Ray Hughes and Sian Chandler, join us for our November concert. "The Black Feathers are acoustic, but with enough power and force to drive a sledgehammer," declared fRoots Magazine.  Americana, Folk, and Acoustic Indie Rock sensibilities coexist comfortably in their musical world, with Hughes' guitar work buoying the kind of harmonies often only heard in family bands.In October, they were #18 on the CMC Country Music Channel's video playlist, broadcasting to 2.4 million households on TV stations throughout northern California.
It's been an incredible couple of years for the The Black Feathers. Their debut album was met with critical acclaim and broke into the Top 10 in the iTunes Country chart and the Official UK Americana Chart. Tours in the UK, as well as an Irish tour supporting Eddi Reader, have kept Sian and Ray busy.
---
Doors open at 7:15 PM that evening for ticket sales. The suggested donations are $20 adults and $15 students with ID; sorry, no pre-sales are available. Our Times Coffeehouse is in the Ethical Humanist Society building, 38 Old Country Road, two miles west of Meadowbrook Parkway next to the blue water tower. For more information, please call 516-741-7304.
Our Times Coffeehouse, staffed entirely with volunteers, has been presenting live music for 28 years. OTC is dedicated to supporting affordable folk music on Long Island, and over the years has hosted hundreds of outstanding performers in a warm, intimate setting. The Our Times Coffeehouse is a joint project of the Ethical Humanist Society of Long Island (EHS) and the Long Island Progressive Coalition (LIPC), with the assistance of the Research and Education Project of Long Island (REP-LI).
Adults: $20
Students (w/IDs): $15
Children under 12: $6 (very young children are free)
Tickets on sale at the door.
Sorry, no pre-sales are available.