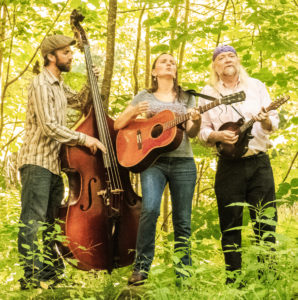 Friday, October 18 at 8 PM
The Heather Pierson Band features three musicians from three very different backgrounds, bringing their skills, quiet charm, and down-to-earth honesty to bear on songs that bring to life the sounds of the streets of New Orleans and the valleys of Appalachia and everywhere in between. Their live performances feature Heather's multi-genre songwriting, their instrumental virtuosity, and stirring three-part vocal harmonies.
Heather Pierson (lead vocals, acoustic guitar, tenor banjo, piano) is an award-winning singer/songwriter, pianist, and performer. From New Orleans traditional jazz to blues to rousing Americana and poignant folk, Heather's songs and musicianship embody joy, honesty, and a desire to share from the heart.
Davy Sturtevant (cornet, dobro, fiddle, mandolin, harmony vocals) is a sideman extraordinaire and an accomplished
singer/songwriter of his own, wielding both an arsenal of stringed and brass instruments and a gorgeous tenor voice.
Shawn Nadeau (bass, harmony vocals) is a self-taught phenom who brings an unassuming rock-solid foundation and a keen awareness to every moment of every song, informed by over two decades of wildly varying musical performances, from punk rock to reggae to jazz.
---
Our Times Coffeehouse, staffed entirely with volunteers, has been presenting live music for 31 years. OTC is dedicated to supporting affordable folk music on Long Island, and over the years has hosted hundreds of outstanding performers in a warm, intimate setting. The Our Times Coffeehouse is a joint project of the Ethical Humanist Society of Long Island (EHS) and the Long Island Progressive Coalition (LIPC), with the assistance of the Research and Education Project of Long Island (REP-LI).
Suggested Donations:
Adults: $20
Students (w/ID): $15
Children under 12: $6 (very young children are free)
Tickets on sale at the door.
Sorry, no pre-sales are available.