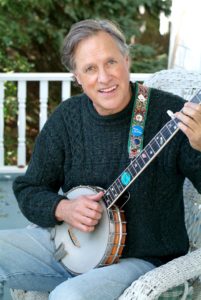 Friday, September 20 at 8 PM
We are thrilled to welcome Tom Chapin for the first concert of our 2019-20 season. The clear, gritty, tender poetry of Chapin's storytelling rides on top of elegantly sparse musical arrangements. Tom accompanies himself on guitar, banjo, autoharp, and mandolin.
In a career that spans five decades and three Grammy awards, the Hudson Valley troubadour has covered an incredible amount of creative ground. In addition to his work as a recording artist and concert performer, Chapin has acted on Broadway, as well as working extensively in films, television and radio. As a music-maker, the multi-talented singer/songwriter/guitarist has maintained two long and productive parallel careers, both as a highly respected contemporary folk artist and as a pioneer in the field of children's music. Chapin has established a reputation for insightful, heartfelt songcraft, masterful fingerpicking, and charismatic live performance.
Chapin is a board member of WhyHunger, the organization which Tom's older brother, the late singer-songwriter/activist Harry Chapin, founded in 1975. He also remains active in a variety of environmental causes, as well as efforts on behalf of music and the arts in our public schools.
---
Our Times Coffeehouse, staffed entirely with volunteers, has been presenting live music for 31 years. OTC is dedicated to supporting affordable folk music on Long Island, and over the years has hosted hundreds of outstanding performers in a warm, intimate setting. The Our Times Coffeehouse is a joint project of the Ethical Humanist Society of Long Island (EHS) and the Long Island Progressive Coalition (LIPC), with the assistance of the Research and Education Project of Long Island (REP-LI).
Suggested Donations:
Adults: $20
Students (w/ID): $15
Children under 12: $6 (very young children are free)
Tickets on sale at the door.
Sorry, no pre-sales are available.